Piccadilly's 2022 Product Gift Guide
The holidays can be tricky. What is supposed to be a time of joy and happiness can quickly turn stressful when it comes to gift-giving. It's hard to pick the perfect present, and it's even more difficult when the stores are packed with tons of people. The easy thing to do is grab a gift card, but it's so impersonal, and it doesn't require much thought. The best gifts are thoughtful ones.
Piccadilly's line of guided journals is an excellent choice to give this holiday season. We have taken the guesswork out of the equation for you with our 2022 Product Gift Guide. Our curated list is designed to provide you with shopping inspiration this holiday season. We've highlighted each product and paired it with suggestions for who each journal would be perfect for.
PRO TIP: stock up on our journals for last-minute gifts! We know every holiday, there's always someone unexpected who shows up with a gift for you, but you have nothing to give back. Solve this dilemma early by grabbing extra journals to have on hand. Our products are inexpensive, so you can afford to stock up.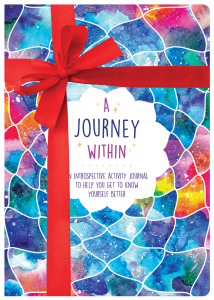 This guided journal is special. It's perfect for giving to teachers, friends, neighbors, and the free-spirited people in your life. It also makes a perfect Secret Santa or White Elephant gift. There are reflective activities that help the reader get to know themselves better. This is also a wonderful gift for people who have everything and are difficult to shop for.
There is a story in everyone, and this guided journal is designed for those that like to think outside the box. This journal would make the ideal gift for family, special friends, writers, and the dreamers in your life.
This is one of our most unique journals because it allows users to explore and go wild with their imagination. Each page has a different creative task to complete that's fun and requires the reader to tap into their creative side. This activity journal is fantastic for teenagers and young adults. It will also make the ideal gift for the doodlers, crafters, and artistic people in your life.
This guided journal makes a unique gift for anyone in your life. It promotes mindfulness and allows the reader to practice gratitude every day. This is our most well-rounded journal to give as a gift because everyone would enjoy it. In addition to the holiday season, this gift would be perfect for Mother's Day, graduations, birthdays, or just as a token of appreciation for someone you care about.
This guided sketch journal is portable for the person who is always on the go. It's an inspirational gift for someone in your life who loves to draw or sketch but who doesn't always make time to do so. It's designed to slowly reignite that spark and passion they once had for drawing. This is also great for the budding artist in your life. The compact size makes it a fun stocking stuffer.
Remember, journals are the gifts that keep on giving. Journaling is a form of self-care and mindfulness, and by giving one of our journals, you're giving the gift of love. Send someone you care about into the new year on the right foot. We've highlighted a few of our products, but there are many more online and in stores at Walmart and Target. Our high-quality journals are the perfect present for the picky person in your life. Our products are diverse and cater to a wide age range. Give thoughtfully this holiday season, knowing any of our journals will inspire creativity and create memories that will last a lifetime.