Your Labor Day BBQ Planning Guide
The end of summer is just a few weeks away and that means it's time to start planning your end of summer Labor Day BBQ. Typically, Labor Day is the last long weekend until the regular holiday season is upon us, so this makes it a great time to get together with friends and family you might not be seeing for a few months. If you're hosting a Labor Day get together this year, your bullet journal can help keep you organized and on target for a great Labor Day celebration.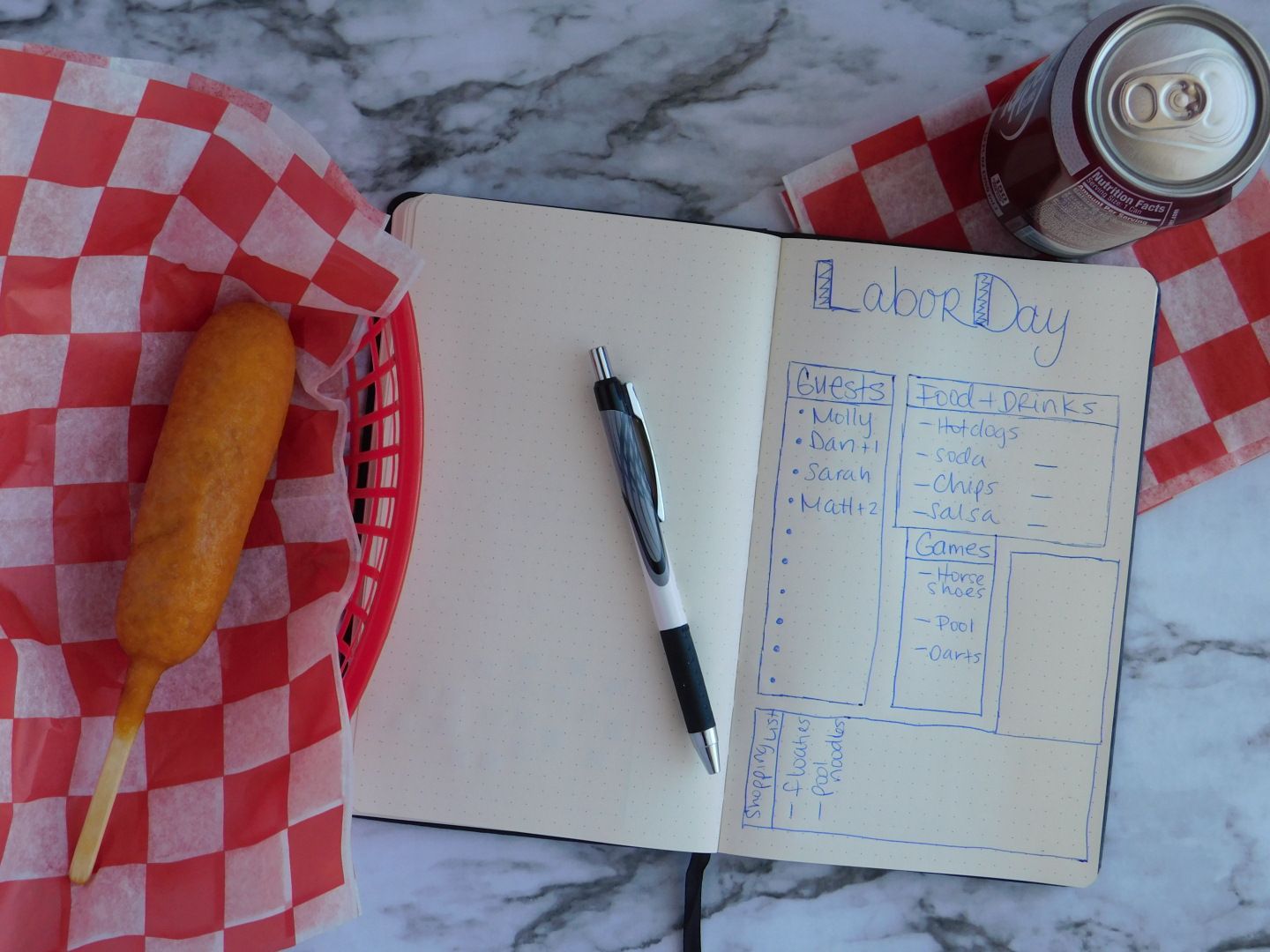 Guest List
Labor Day BBQ's aren't formal, so you don't necessarily need to send out an official invite. However, you can jot down invitees and make a note next to those that are coming and those that aren't. This will give you an estimate of how much food and drinks you'll need to buy for the party. Keep in mind you should leave a little leeway for those who end up showing up even though they didn't commit to coming in advance.
Recipes
What's on the menu? Carve out a section in your bullet journal party planning guide for recipes you'll be hosting at your BBQ. This will make it easier to avoid missing key ingredients when you go shopping. If you're hosting a potluck, make a note of what everyone is bringing so that you don't end up with double of the same dish. Don't forget to add some refreshing summer cocktails to your recipe list! Pinterest is loaded with delicious drink ideas that are fun to look at too.
Décor
Spice up your backyard with some fun Labor Day décor. Labor Day is an all-American holiday so if you're not sure how to decorate you can't go wrong with a little red, white, and blue. You can also pick an alternative theme for your BBQ, such as a Luau. Add any décor items you'll want to pick up at the store into your BUJO shopping list. If you really want to go all out, create an inspiration board in your bullet journal for backyard décor.
Games
Labor Day is all about hanging out, having fun, and relaxing (literally, no work on Labor Day)! Keep your guests entertained with some fun outdoor games. Horseshoes, Bocce Ball, and Washer Toss are all great games to keep everyone entertained and mingling. If you don't have many outdoor games, check with your guests to see if anyone else has the game or games you are looking for versus going out and buying a ton of lawn games. If you have a pool, you'll have all the entertainment you'll need on a hot day. Grab some cheap 99 Cent Store floaties and noodles to keep your guests cool in the pool.
Keeping Cool
Typically, summer weather is still in full swing during Labor Day, and most Labor Day get-togethers will be outside. If you've got a pool you've already got the heat beat but if you don't make sure you've got plenty of shade outside for your guests to hang out under. You'll also want to make sure that you and your guests are staying hydrated, so make sure to jot down water bottles in your bullet journal shopping list.
Happy Labor Day!