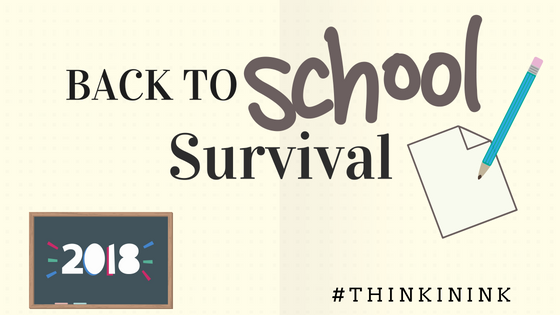 Your Back to School Survival Guide
With the 4th of July behind us and Labor Day looming in the horizon, back to school time will be here before we know it. With only a few more weeks before its's time to send the kids off to school, now is the time to get prepared (if you haven't already) for the first day of school. We've compiled a few lists and tips to make this year's first day an enjoyable one for everyone in the family.
School Clothes Shopping
Before you make a beeline for the mall, shop smarter this year and go through your kid's closets BEFORE you hit the stores. Donate clothing that no longer fits and throw out clothing that's too worn to wear again. Take inventory of items that are still in great shape that can be worn throughout the new school year and make a list of items that need to be purchased. Once at the stores, shop smart and choose versatile pieces that you can easily mix and match to create different looks, your wallet will thank you for it. 😊
Elementary School Supplies List
Pencil Box
No. 2 Pencils
Pencil Sharpener
Black or Blue ball Point Pens (depending on age)
Erasers
Highlighters
Markers or Crayons or Colored Pencils (depending on age)
3-Ring Binder
Hole Punch
Subject Dividers
Notebooks
Folders
Child Scissors
Index Cards for Flash Cards
Ruler
Glue Sticks
Notebooks and/or Wide Ruled Loose-Leaf Paper
Backpack
Lunchbox
Calendar Organizer or Notebook
Middle School & High School Supplies List
Pencil Pocket for 3-Ring Binder
Blue or Black Ballpoint Pens
No. 2 Pencils
Erasers
Highlighters
Permanent Marker
3-Ring Binder
Subject Tabs/Dividers
Hole Punch
Notebooks and/or Wide/College Ruled Loose-Leaf Paper (depending on age)
Graph Paper
Index Cards<
Pocket Folders
<Glue
Post its (varying sizes)
Ruler
Protractor
Scissors
Graphing Calculator or Basic Calculator
Backpack or Book bag
Lunch Bag
Gym Clothes
Other Supplies to Consider
Reusable Water Bottle
Tissues
Tape
Stapler & Staples
Chromebook, Tablet or Laptop
Alarm Clock
Helpful tips to make the back to school transition easier. 

Get back into the routine in advance! Transitioning back into a school routine can be rough, lessen the blow by transitioning into a school night bedtime routine at least one week before the first day. It's also helpful to have the kids get up around the same time they would be getting up for school the week before too.

Don't forget to prepare yourself. Stay on top of the new school year this year with a new bullet journal or notebook dedicated to this year's schedule. Make sure to log in important school dates, holidays, extracurricular activities, sports practices and events, and anything else that you'll want to make sure you're keeping track of throughout the year. Having all of these dates in one location is gold, especially when you are dealing with more than one child's schedule.

Check out Piccadilly's line up of bullet journals and notebooks and get started on you back to school planning.