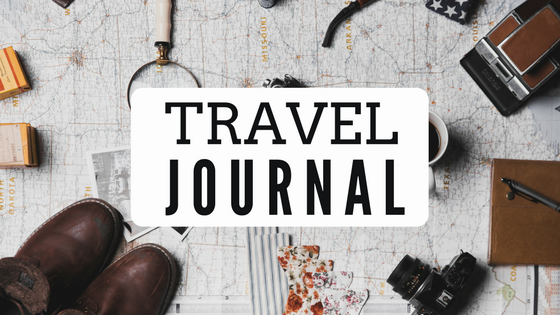 Travel Journal: The best way to keep track of memories
Travel journals are all about collecting memories for later. Being able to write down what you see and how you feel as it's happening is the best way to be able to relive those moments later. There isn't a right or wrong way to create your travel journal, so let your creativity take the lead and journal however you like! If this is your first travel journal and you need a little guidance, we've compiled a list of travel journal essentials. Enjoy!
Plan Ahead 
Before you leave for your trip, use your travel journal to map out your course of action.
Check online for must visit places as well as tourist traps you'll want to avoid. Add lists of to do's for before you leave and a packing list for your suitcase. Make a note to check the extended weather forecast before you leave so that you'll know what to wear. Write down anything and everything you won't want to forget before leaving on your trip.
Pictures 
This is a no-brainer! Make notes in your travel journal to add pictures to later. Take pictures of your favorite dishes, unusual cars, or animals native to your location. Later have those photos printed and attach them next to your notes.
Maps/Brochures
Those seemingly worthless travel brochures and maps that are stocked at the hotel lobby make great additions to your travel journal. Make sure to grab the ones related to the locations you choose to visit. You could choose to add a map to your journal and chart your course with notes and pictures, documenting what you did at each stop.
Postcards 
Postcards make great, inexpensive souvenirs, and just about every store carries them. Pick up a new card at each of your destinations and add a few notes to them before placing them inside your travel journal.
Tickets 
(Plane/Train/Bus) Boarding passes, train tickets and bus tickets make great additions to any travel journal. Add them alongside your map to help document your adventures. How long did it take you to fly from one place to another? Did you end up taking the bus or even a boat for another section of your trip? Keeping track of your tickets is a fun and unique way to add a little creativity to your journal, especially when traveling internationally.
Money 
If you're traveling abroad, save a dollar or a few coins from that particular country's currency. Tape them to your journal and list what country they are from. You could choose to add a note of the conversion made to dollars for a fun fact in your travel journal.
Emails 
Chances are you might make some new friends that you'll want to keep in contact with once you're back home. Designate a spot to write down names and email addresses of friends you've made along your travels.
Reflect 
As your trip comes to an end, make some space in your travel journal to reflect on your travels. What did you love the most? What was the best thing you ate? Favorite hotel? What would you do again if you ever came back? Maybe make a few recommendations for friends who might choose to visit that destination later. Reflecting is a great way to pass the time on that long plane ride home. Happy Traveling!
Check out this list of other notebooks and journals to bring with you on your journey:
Pocket Memos
Essential
Flatline Journals
Live Love Laugh Pocket Memos
Sacred Places Journal