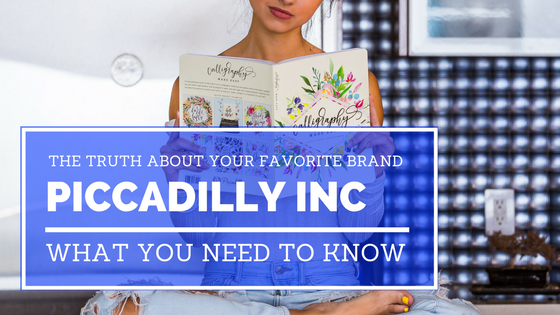 The Truth About Your Favorite Brand
Piccadilly is so much more than your average stationery brand. Sure, we all love their products and their ability to inspire us to create, but with Piccadilly there's more behind the scenes then meets the eye. When you think of a stationery brand, you typically don't think of environmentally friendly, after all paperless seems to be the best way to conserve. However, Piccadilly goes the extra mile to create products that are eco-friendly due to their commitment to a greener earth. Piccadilly is a brand for people, and it continues to produce products designed for just about any life situation.
Eco-Friendly Products
Piccadilly prides itself in its ability to offer a high-quality product without sacrificing the environment. Piccadilly products are "acid-free," which means your notebooks and journals won't fade out or deteriorate as they age. This is what makes Piccadilly such a great choice for keeping track of memories and other important life events you'll want to look back on years down the road. Piccadilly offers "soy-based" ink products which are much easier on the environment when it comes to recycling. Environmentally friendly doesn't mean they've sacrificed quality, and their inks produce brighter, more vibrant colors compared to basic petroleum-based inks.
Products that help aspiring writers get over writer's block
It doesn't matter if you're an accomplished writer or a hobbyist, writer's block can hit anyone. Piccadilly's products help people get over the writer's block hurdle with amazing, thought provoking prompts that will get even the newest writers going.
Products that help people deal with life's challenges
The therapeutic benefits of putting pen to paper cannot be underestimated. Often, choosing to grab a notebook and put your thoughts and feelings down on paper can make dealing with life's challenges a little less overwhelming. It's also proven that writing before bed, whether it's free writing or jotting down your to-do list for the next day, can help you get a better night's sleep. Another way Piccadilly's products can help you stay on top of your schedule is through bullet journaling. Having a place to plan out your schedule in a creative way makes our hectic lives seem a little more manageable.
Products that help create beautiful memories
Piccadilly's outstanding quality makes their notebooks and journals an excellent choice when creating memory books. Travel journals are a great way to relive your adventures and Piccadilly's "acid-free" paper makes traveling with your journal easy because you don't have to worry about your pages crumbling or yellowing with age. Piccadilly's notebooks and journals make great canvases for scrapbooks due to their high quality, and you'll be able to share your memories with friends and family for years to come.
Products that are just plain F-U-N
Last but not least, Piccadilly's products are just plain fun! No matter what your age, there is something for everyone. Piccadilly's products are a great way to take a break from technology and relax your mind. They are also great for encouraging children and adults alike to use their imaginations and create.