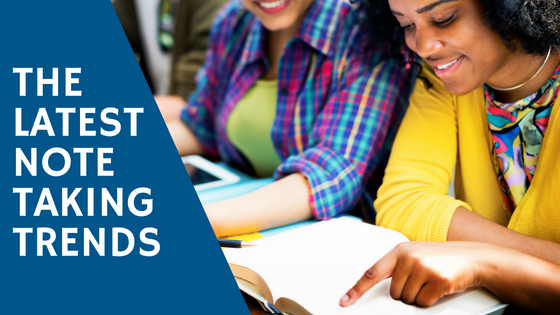 The latest Note Taking Trend
Whether you're in grade school or graduate school, the art of notetaking cannot be understated when it comes to achieving the best grades possible. For most people, being able to effectively take notes makes a huge impact on the amount of information they are able to retain. There is something to be said about how the act of physically writing something down on paper helps us transfer information from our textbooks into our memory. The key to note taking is finding what works for you, as there isn't a "one size fits all" standard for note-taking. One trend in note taking worth familiarizing yourself with is the bullet journal method. If you've been struggling to find your go-to notetaking system, consider starting a bullet journal. We've broken down the highlights of what makes an effective bullet journal for note-taking.
Titles and Numbers
Add numbers to every page of your bullet journal; this will make it easy to reference other pages when you are working with related information that you don't necessarily want to write again. It's also wise to add titles to your pages so that you have a clear picture of what type of information you can expect to find on a given page.
Add a Key
If you're familiar with bullet journaling than you know that creating your own key is a necessity. Your key can be customized to whatever you see as a priority or whatever you know you'll be writing frequently. For example, you can create a key that includes homework and project due dates, a glossary for key terms, and study guides. Your keys will probably vary from subject to subject, or in the case of using a bullet journal for your professional note taking your key will vary from project to project.
Create your own index
Creating an index is a very helpful way to reference information you need quickly. You can choose to put your index in the front of your journal like a table of contents or put it at the back of your bullet journal as a standard index. It's important to leave enough space for your index and make sure to list everything in alphabetical order. Your index will be a work in progress, and as your note collection expands for a subject you'll want to make sure that you reference where to find related types of information by page number next to the correct word or phrase in your index. For example, if you've added the word "cats" to your index, every time a page contains information about cats you'll want to mark that page number down next to the word "cats" in your index.
Lecture vs Personal
Not everyone learns the same way. Some people learn a great deal from lectures and PowerPoints, whereas others prefer to pick out relevant information on their own as they are reading their textbooks. For many, the best way to learn is a combination of the two. Splitting your bullet journal for at a glance viewing to include both your lecture/PowerPoint notes and notes in your own words from reading textbooks can be very helpful for information retention. You can choose to use 2 separate pages for this (lecture notes on the left page and your own words on the right page) or you can split up these notes on one page by drawing a line down the middle of the page. This practice is especially effective for subjects that involve complex formulas such as math and physics, where you can write the basic formulas on the left side and easy to follow examples on the right side.
Here is a list of some of our notebooks to help you follow the trend:
Essential Notebook
Essential Notebooks with color
Dot Grid Essential Notebook
Essential Notebooks with Print
Leatherlook Journal
Soft Leatherlook Journal