Reflect over the year & plan for the future
Maybe some things fell through the cracks this year and you are really looking forward to a new start. Maybe you love setting new goals. Whatever your motivation for heading into 2019 as fast as possible is, the next 14 days are still 14 days of 2018 no matter how you look at it. During the next 2 weeks practicing Goals & Gratitude will help you reflect on the past year (maybe even remember that your life is NOT all bad days) and set short & long-term goals for the New Year that you can achieve.
Gratitude
/ˈɡradəˌt(y)o͞od/
noun
      1. The quality of being thankful; readiness to show appreciation for and to return kindness.
Gratitude is one thing I think we all should practice more than we currently do, and not just on Thanksgiving. It is so easy to get hung up on all the bad days when life really didn't go the way we planned. The days when you were running late and spilled coffee on your shirt, or the days when a customer at work was rude. But, practicing Gratitude on a regular basis will help you evaluate the situation and help you come to see those bad days are just moments in time and do not ruin your whole life.
You may be thinking that practicing Gratitude is easier said than done. We used to think it was hard too, but with guidance and a place to start – it became easier than we could have imagined. To reflect on your life and the past year, start here and write down each  of the 12 Gratitude Prompts and Answer them in your journal:
      1. I am proud of myself for….
      2. I'm grateful for these three family members:
      3. How is your life more positive today than it was a year ago?
      4. What's a tradition that you're grateful for?
      5. Write about 3 things you're grateful for TODAY:
      6. What's something about your body or health that you're grateful for?
      7. Who is the most positive, inspiring person you know?
      8. What opportunities have changed your life?
      9. What is your favorite or best talent?
      10. Do you feel excited about your future? What makes you excited?
      11. Where is your favorite place to be?
      12. What do you see, hear, smell, touch and taste that you feel grateful for?
Do you see what we mean when we say the bad days are just tiny moments surrounded by so much amazing stuff in your life! Your life is so fantastic, and you have so much to be grateful for – we just got too used to looking past these things and taking them for granted.
You can use the same prompts or research other gratitude prompts to use, but keeping these in your sights will help you balance the good and bad.
Try to practice Gratitude on a weekly basis to start with and increasing the frequency until it becomes a daily habit.
Goals
/ɡōl/
noun
      2. The object of a person's ambition or effort; an aim or desired result.
Now that we have Gratitude covered, for 2019 let's plan out 6 short-term goals that you wish to work toward.
Short-term goals are any goals that you want to achieve in the near future. Example: Learn Calligraphy, Manage time better, etc.
For these short-term goals, you will write down what the goal is when the deadline to achieve the goal is and 3 things you are going to do to accomplish the goal.
If you break down the year into the 12 months, and you are planning 6 goals – you could give yourself 2 months (8 weeks) to accomplish a goal. This is just a rough idea, but each of your 6 short-term goals needs to have a deadline that you are going to hold yourself accountable for.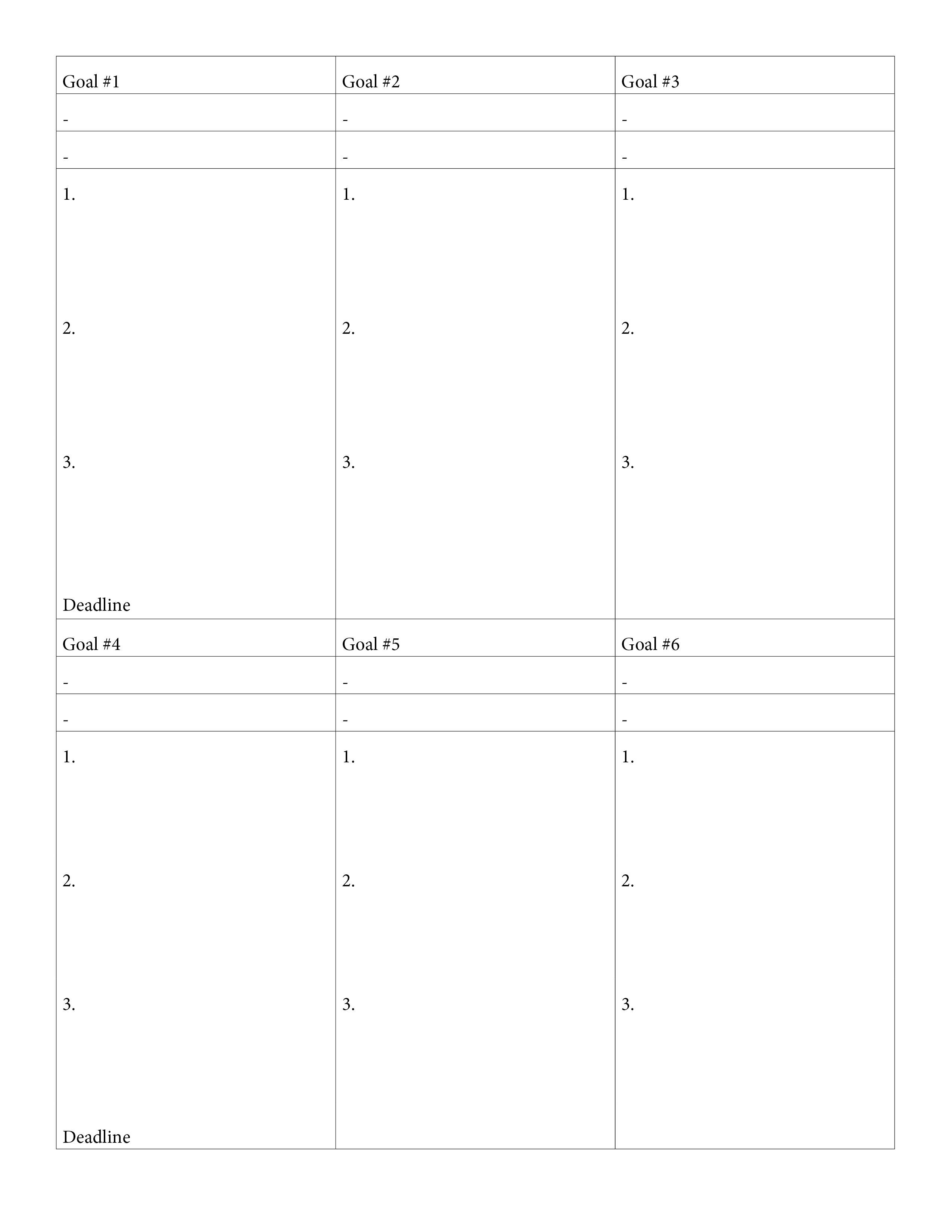 For long-term goals achieving them will not come as quick as your short-term ones, but the payoff is even better when you get to that deadline and it's marked off as complete. Let's plan out 3 Long-Term goals to work toward during 2019.
For these 3 goals, you are going to write out what the goal is when the deadline is and 6 things you have to do in order to accomplish the goal. If you don't have a set deadline yet, you will want to look into your goal and figure out how much time should be allotted and how much time is realistic.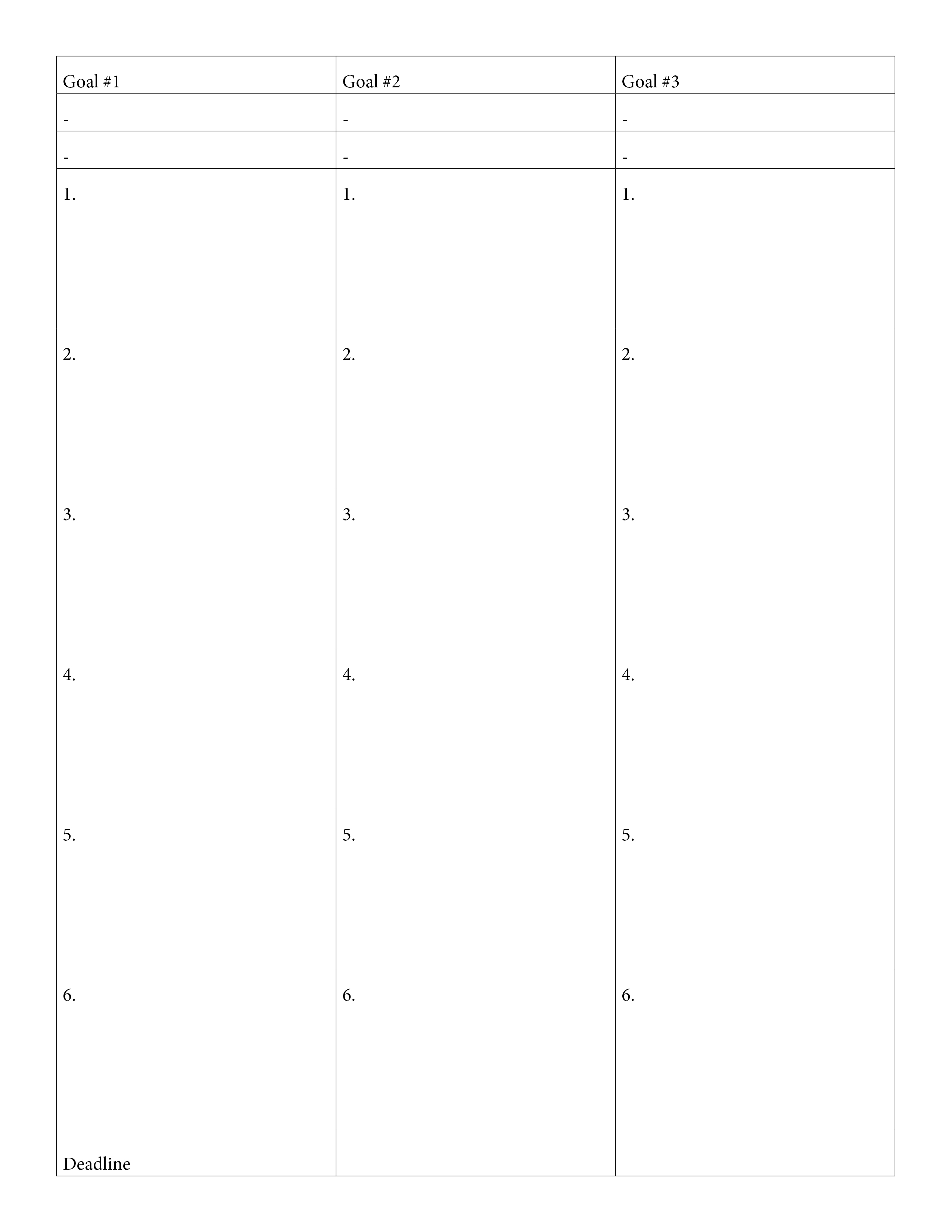 Now that you have your goals, 3 long-term and 6 short terms, mapped out for the New Year adding these deadline dates to your calendar will help you keep in mind when your goal "expires." If you pass your Deadline, don't drop the goal altogether – reevaluate the goal and the steps you had taken, and go back to square one of planning out the goal better. This time change things up or add steps to your plan.
Good luck on your journey to achieving your goals.
Here is a list of some of our journals to help you reach your goals:
Easy Journal
Leatherlook Journal
Open Bound Journal
Inspired Journal
Dot Grid Essential Notebook