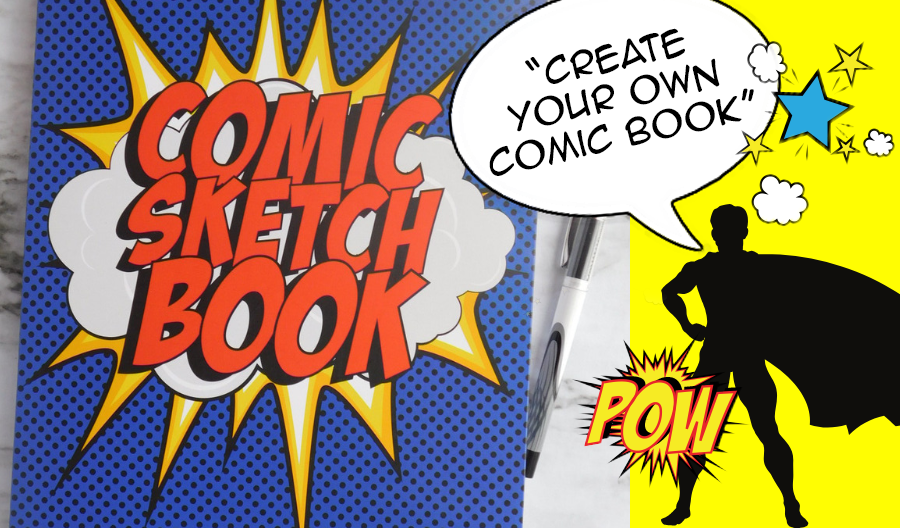 Create your own comic book with Piccadilly's Comic Sketchbook
The comic book has made quite the transformation over the past couple of decades and comics are no longer limited to the back section of your Sunday newspaper. Comic books have created their own culture, gaining an immense fan base unlike any other. Not only have they become the basis for many top grossing Hollywood blockbusters, but they are celebrated nationwide with traveling tours such as Comic-Con International, where thousands gather in cosplay in hopes of catching a glimpse of the actors that recreate their favorite comic book-based characters on the big screen. The beauty of the comic world is that you can do or be anything you want, so why not use your own ideas to create a unique, one of a kind comic book storyline?
If you're ready to get started on your very own comic book, Piccadilly has just released the perfect sketchbook to help you create your comic book. With 204 pages of predawn comic borders, this sketchbook helps take the busy work out of the creative process. We've outlined the three essentials that every great comic book needs to help you get started.
1. All great comic books start with an idea.
The great thing about the comic world is that every idea is a possibility, no matter how wild it might be. Think of the greats, a flying, invincible man, sent to earth as a baby from an alien planet? Sounds out there but this is the foundation for…you guessed it, Superman. Don't limit your ideas to the realm of reality, anything is possible! Keeping a notebook of different story ideas that you have is a great way to get your thoughts organized and ready for your comic sketchbook. Use a notebook to jot down ideas and brainstorm until you find which idea (or multiple ideas) you want to work with.
2. Give your comic a storyline.
Once you've locked down the general concept of your comic, it's time to create your own script and develop your characters. Make notes in your notebook about your main character or characters. Write down their strengths, weaknesses, and anything else that makes the character unique. Next, create a problem for your characters to overcome or a situation in which they can utilize their strengths or overcome their weaknesses. To make your comic easy for the reader to follow make sure to give it a beginning, middle, and end, although you can choose to end with a "to be continued." With comics, there's no need to stick with one storyline and most comics evolve over time like the episodes of a TV show.
3. Create a unique layout.
Now that you've laid the foundation for your comic, it's time to get to work! Piccadilly's Comic Sketchbook makes creating your comic book layout easier than ever. Sketch your characters and follow them through your storyline, adding relevant script along the way. Keep your readers entertained and wanting more by adding drama and suspense before the reader needs to turn the page to find out how the story ends.