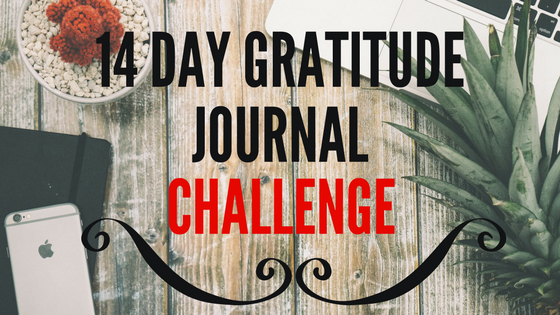 14 Day Gratitude Journal Challenge
Feeling like you have nothing to be excited about? Join us in the 14 day Gratitude Journal Challenge and we promise you will see things in a different light. Each day go through the challenge and complete them with an open mind.
They say it takes 14 days to form a habit; this will be one habit good for your health.
Lets start!
Today:  Start a Gratitude Journal – Grab your favorite journal or notebook and dedicate it to the 14 Day Gratitude Journal Challenge.
Day 1: Write 10 Things You are Grateful For in Your Life – Write 20 if you can think of more than 10.
Day 2: Give Thanks for Your Food – We can tend to forget how much food is vital to our livelihood, write down your appreciation for your Food.
Day 3: Write a Gratitude Note to Someone – Pick the one person you are most grateful for and write them an appreciate note.
Day 4: Reflect on the Meaning of Gratitude – What does being grateful mean to you?
Day 5: Identify 3 Things to Appreciate about Your Rival – Even your competition has great qualities that you can appreciate.
Day 6: Give Thanks for Your Life – Write down how grateful you are to wake up every day and be able to work toward goals.
Day 7: Give Thanks to Yourself – Looking in the mirror it is easy to see all the things you dislike when you are hard on yourself, but look past all that and write down the things you admire about yourself.
Day 8: Transform an Ungrateful Thought – That one voice in your head, you know the snooty little brat voice, get that out of your head and transform it into a positive.
Day 9: Share Something You are Grateful For with Someone – How did they respond after you let them know how you felt?
Day 10: Give a Gratuity Tip to a stranger – This could be monetary or kind words. Share in your journal how you would feel to receive the same in return.
Day 11: List 3 Things You Tend to Take For Granted (and What You Plan to Do About Them)
Day 12:  Take Action on Your Plan from Day 11! – Write down a plan to change the 3 things you take for granted, and how your life would be if you didn't have them.
Day 13: Do a Gratitude Meditation –Start your day off by meditating about the things you are grateful for, this will help you stop thinking about all of the things you believe you Don't have.
Day 14: Give Thanks for Your Mistakes – Write down the mistakes you have made and lived through, and the lesson that each has taught you.
You completed the 14 Day Gratitude Journal Challenge. How does it feel to give gratitude? 
Connect with us on social and tell us about your journey through each day of the challenge. #gratitudechallenge